Black Friday and Cyber Monday Deals at CanvasChamp 2019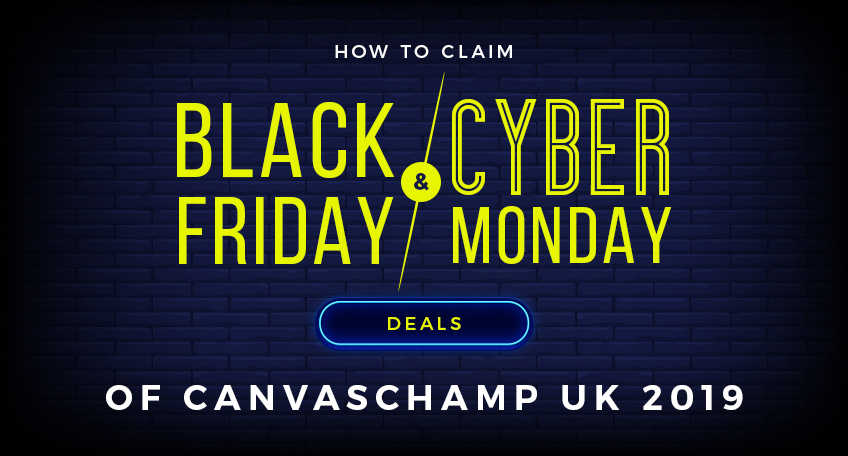 Everyone loves a bargain. Even if you are rich and posh sitting in your Benz, you'd still order something online only after applying a coupon code to satisfy the feeling of saving a few quids off here and there. And that's exactly why we are letting you know about the Mega Sale that will happen at CanvasChamp UK next week.
We are bringing you one of The biggest shopping periods of the year! We're talking about Black Friday and Cyber Monday Sale which not only stays open for those two days but also in between! That's like four days non-stop looting discounts! There's just a week to go until you, like millions of other bargain-hunting Brits can save yourselves pretty much most of your pennies with our Blockbuster Deal Sale.
Since Black Friday and Cyber Monday sale are close by to each other, we decided to make it an all-time high-adrenaline experience for you- so that all the eagle-eyed, deal watchers can get to snag the lowest prices on personalised decor items. All you savvy shoppers who have been waiting all year long just to take advantage of deep-pocket discounts can now end your wait because we are bringing some unbelievable markdowns for you at CanvasChamp UK.
Since Christmas is coming along, we suggest you use all you got to get the best gifts- especially photo gifts to make it look like a thoughtful gift given across all your family and friends. To get you started, check out these Black Friday-Cyber Monday gift ideas and codes you won't want to miss:

Black Friday & Cyber Monday Deals 2019

Don't think just yet that 'this blog doesn't have any specific per cent of sale mentioned or coupon code to use, so why to read it further' - well we do, and we will let you know right now. We are giving out 20% OFF on all orders above £60 sitewide. That means you buy anything on the website and instant 20% discount will be applicable on your order! The Sale starts on 29th November 2019 and stays on till 2nd December 2019. Feast on the best decor items with our special coupon code: Blackcyber20, and make your home look like the most high-class you ever imagined to have!
You can check out the most popular items that can give you the BIG savings below:
1.Metal Prints: These are high-definition artworks that can simply make any photo printed on it simply stunning. Your photos are printed on a sleek aluminium sheet panel and make your photos luminous instantly. Custom metal prints can be perfect gifting items to close ones or even some high-end clients that you want to bag a project with. Also, since larger custom sizes come expensive, you can grab on these as many as you want during the sale period to save loads of money.
Get 15% discount on a metal print order over £40
2.Photo Pillows: Got to gift something cutesy to your daughters, mothers, female colleagues or any other female acquaintances? Photo pillows will rescue you when it comes to gifting all the females in the world! You can print all the best motivational quotes for the working friends you know or photos with your relatives and gift these knowing blindly that it will be a practical gift that will be loved forever.
3.Canvas Prints: Ah, your house might be needing an artistic touch with a few exotic paintings but budget too low? - simply welcome canvas prints into the walls of your homes and see how accentuated your home will start looking! Custom canvas prints make it easy to recreate the paintings or artwork that you already like. So go ahead and find the highest resolution image of a Van Gogh or Picasso and hang it right in the living room to make a statement.
Buy 2 Get 1 Canvas Prints Free
4.Photo Mugs: A perfect deal for someone who is living an entrepreneurial life and needs to instantly gift their employees and also motivate to work better at the same time- personalised photo mugs. Print photos and messages on the mugs to make some positive rounds in the minds of colleagues, clients or even jealous some relatives how well you did this year with photo mugs.
5.Acrylic Prints: If you want your photos to pop out of the walls then definitely go for acrylic prints. Since they are printed on plexiglass sheet, light reflects your photos brilliantly to add substance and depth instantly. Customised acrylic prints can display vibrancy out of your pictures with glassy lustre.
Get Flat 10% Discount on Acrylic Prints
To make it even easier to benefit from our Black Friday-Cyber Monday bargains, you can register with CanvasChamp UK today to get exclusive deals and discounts directly into your email inbox.