Home Decor With Metal Prints Made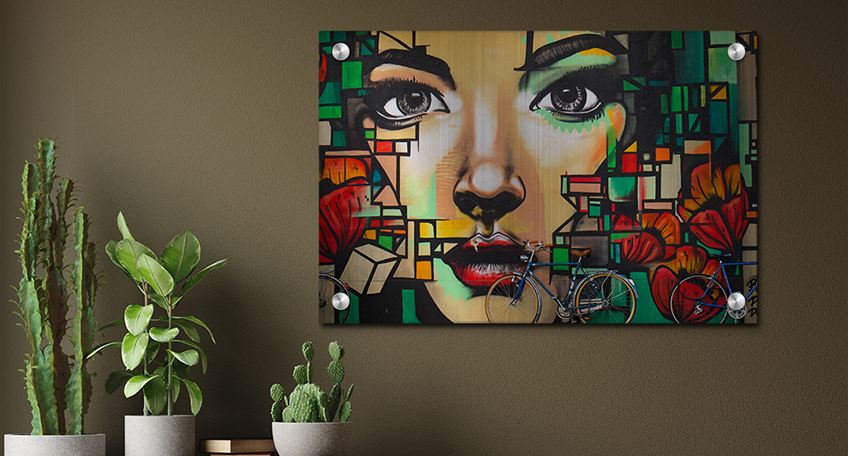 Home decor is worth viewing only if you get a chance to grab onto high-quality wall art pieces to give a modern look to your home. Finding art today that boasts vibrant colours from your favourite photos is hard to find nowadays - and also expensive as hell. Which is why we bring you the idea of metal prints as a part of your home decor wherein you can design and customise your very own favourite photos onto custom metal prints from scratch.
Custom metal prints are just like canvas prints that are the perfect souvenirs to cherish your life's best moments. Read on further to see how you can create metal prints from your favourite photos, custom captions and monograms.
How To Make Metal Photo Prints
Metal prints happen to come frameless and metallic, which makes them have better longevity than the typically framed prints on different mediums. You might be wondering what is a metal print and exactly how can a metal last longer since metallic items tend to rust if not well maintained? We have all the answers for you and trust us, metal prints never rust, nor do they make the photos fade in the long run! So, you can create a simple yet creative design to showcase your favourite memories in any theme or concept.
First of all, you need to measure your wall and decide how much area should your metal wall art cover. Upon determining this, you can choose any custom size from us since we cater to sizes from 8"x8" to 39"x39". You can even select popular sizes that we usually recommend in the size section of our editing tool. We have categorised sizes into panoramic, square, large and small to help you decide in a better way.
Step 2: Create A Theme
Are you thinking of putting up metal prints in a specific room or are you planning for a photo collage metal? Or, do you want a split metal print highlighting one photo rather than a mini-art gallery with mixed sizes? You can narrow down your options for a particular theme with the below factors.
Type: We have several options including single metal prints, metal wall displays, photo collage, split-metal, photo mosaic, lyrics on metal, digital painting, quotes on metal and bus rolls.

Occasion: This depends on what memories you want to highlight by printing them on a metal print. You can choose photos from your vacation trips, holidays, wedding, kids, etc.

Text: We provide you with an additional option to add custom text as captions or even dates, names.
Step 3: Select Your Layout
Your layout option will depend on the type of metal prints you have chosen in Step 1. For instance, in photo collage, you can arrange up to nine photos, whereas, for wall displays, you can select up to ten pictures of your theme. In split-metal prints, you can split an image into a maximum of seven pieces.
Step 4: Add Your Photos
Metal prints display the best clarity if you upload photos with the best resolution. You can upload photos from your smartphone, desktop, laptop, hard drive or even from your Facebook or Instagram profile directly on our editing tool.
Step 5: Choose Your Hardware & Finish
The hardware and finishing filter that you select will give your metal prints an edge to the personality your home may need.
Front Mounts: Four bracket-holders are used that look like metallic disks to hold your frame slightly away from the wall giving a floating look the metal prints.
Back Mounts: One steel chrome bracket is attached at the back of your photos on metal to hang it on the wall like a frame.
Original: Keep your photo original without any filters or customisation.
Sepia: Give a warm tinge to your photos to add some colour in the memories
Greyscale: Make your photos look nostalgically black and white with this filter.
If a metal print doesn't fit your home decor's colour palette, you can try out any major or minor retouchings with us. Or, else try canvas prints for a classic alternative or acrylic prints for a modern one.
Metal Print Decoration Ideas
Even though if you know how to create metal prints from scratch now, it wouldn't be worth it if you don't know what kind of art to pair the prints with! Image resolution and the type of image plays a vital role in narrowing down your options. Explore this blog further for wall art inspirations for metal prints:
Get you a metal print which looks like a modern aesthetic in itself to transform your colourful portraits or landscape views. You can even get abstract art images to give a stunning focus on it in any room.
Add a border frame with us to your metal print for a rustic view of your image. Choose from up to 11 frame options from us. Although metal prints look perfect when frameless, we still give the option of framing metals for aesthetic preferences.
Outdoor Metal Print Display
Nothing describes the countryside like the photos from a vacation where you had a bonfire with your favourite song. Metal prints from us come with a special coating which protects it from any environmental elements.
Make your bathroom look spacious by putting up landscape portraits on metal prints. Create a splash of fresh colours from the images for lakes, oceans or even valleys for a calming atmosphere.
Break your favourite photos in up to ten metal panels to create a unique and dramatic look of the image. Give some extra oomph to your room along with unique and eye-catching furniture around it.
You can let your favourite quotes of motivation or inspiration shine away from the walls on metal prints. Spread some light on everyone that views it at home by keeping it in a central lounge such as a living room or dining room.
Decorate your child's bedroom with their sense of ownership by printing a monogram of their name on metal prints. You can even try it out as a couple for your bedroom and give a den-like feeling to the room.
Final Thoughts
No matter what kind of art you end up choosing according to your preferences, metal prints will always make your photos look like showstoppers in your living space. Not only for home decor but such a beautiful masterpiece if given as a custom photo gift will be cherished for a lifetime. So, go ahead and create some scintillating views from your favourite photos on metal prints.