Introducing Acrylic Photo Blocks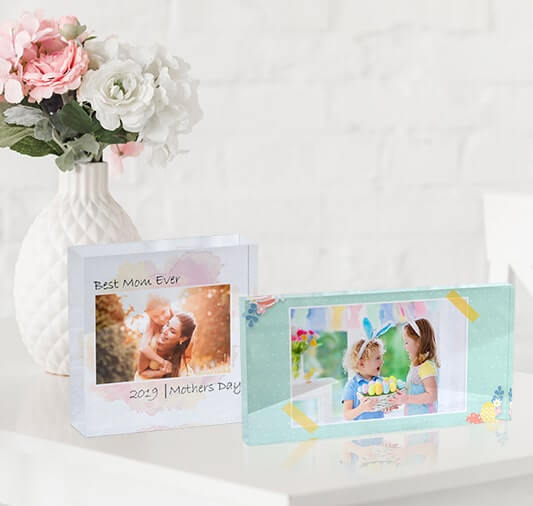 With the accomplishment and love received from our loyal customers so far, we're thrilled to announce our newest product – acrylic photo blocks finally. These 1-inch thick, beautifully polished acrylic works of art, bring your pictures to life making a remarkable statement. The thick acrylic glass refracts the light in a way that lightens your images to make them look serene, providing a 3-D effect. Since they are free standing, they are perfect for displaying on a desk or a mantle. It can be a cool gift for any occasion.
Just like acrylic photo prints, we are currently offering these in more than ten sizes to display your photos proudly on custom acrylic photo block prints. We may provide additional sizes in future depending upon the demand from the customers. Get to upload photos from any device or any location to get a preview on how your images would look in an acrylic glass block. You can even log in directly on Facebook or Instagram to import your photos from there.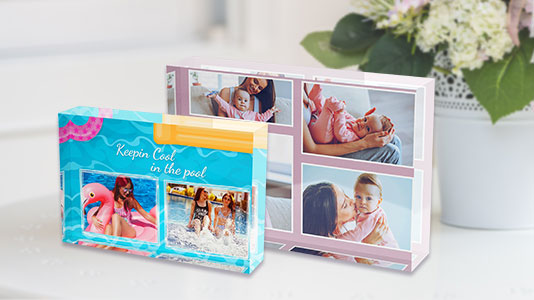 Acrylic blocks are a synthetic and durable alternative for glass blocks. Acrylic blocks are widely used for decoration purposes nowadays because of its lightweight. This feature of them makes transportation and installation easier in renovation for home or office space.
Our new acrylic glass photo blocks are made of clear plexiglass that features a vibrant photographic print. This photo paper, for now, is available as only white lustre paper to bring out the vivid colours of your photos printed on it. Here's the chance for you to have some fancy artwork on the go or for a tabletop accessory for your study table to make space feel homey.
The detailed specification of the glass blocks:
Diamond cut edges that provide a sharp view of the image from any angle.
1-inch thick solid free-standing acrylic block for desk, tabletop or shelves.
Crystal clear layer which is hand-polished.
Currently available in sizes 4" x 4" to 12" x 8".
With an archival quality of over 100 years, these can be a perfect gift for family, friends or co-workers as stunning photo blocks. Since they are very easy to maintain, you can clean them with a lightly damp cloth and wiped the glass surrounding the photo. They also come well packaged in a bubble wrap to you so that no edges of the plexiglass gets damaged during its shipment.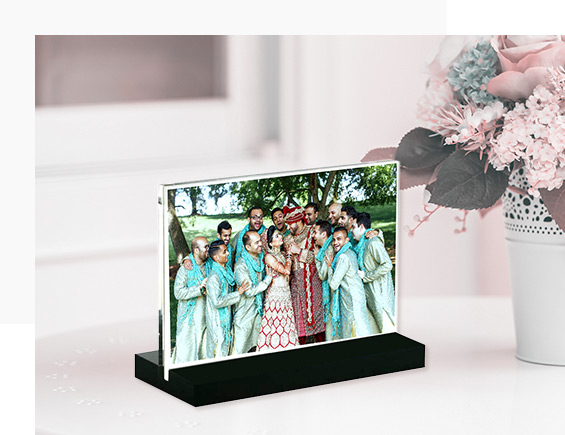 Offering a design appeal, you can use these blocks for home decoration as well as office decoration. Use it to display your wedding photos or take it to a promotional show for business purposes. Get a chance to display your business logo, or achievements in a posh way. With our easy-to-design online tool on the website, you can create a personalised acrylic photo block with comfort and convenience. There's no going back to ordering these pieces from a photo lab once you find it straightforward to work through our editing tool.
Pricing for these beautiful acrylic photo glass blocks begins from £4.89 and goes up to £55.49 depending on the size chosen. Also, get to choose a photo paper and base to manage the vibrancy of the colours in your photo. Visit acrylic photo blocks page today to check out how easy it is to decorate your photos!