Your Favourite Song as a Wall Art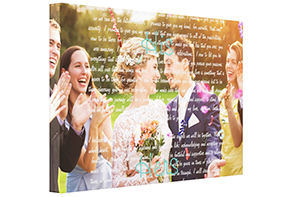 Everybody proudly has a favourite musician, song or a band. Friends and family may not agree with your choice, but they are your chosen favourite anyways. It doesn't matter what other people think about which song you enjoy! Music has this extraordinary power that can help us remember, forget or even brood on something. They can lift our spirits just as much some songs can make us feel blue - sometimes all feelings are explored in the same song. Without music, everyone would feel their identity gone a little bit hollow. Since music has been such an essential part of everyday life, some people choose to highlight their favourite melodies by adding lyrics to any form of art.
We had photographs and posters on the wall of our favourite singers or bands while we were growing up. And while others don't observe it, the first stage of getting into the world of art is usually teenage. But it's often not until later as adults that we get our chance at owning some lovely artwork related to our youthful musical days.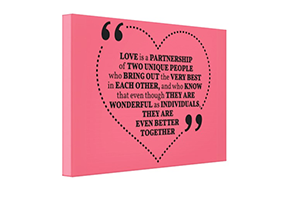 One of the stylish ways to show off your love for your favourite song is by adding lyrics to a canvas print with a picture of the artist as well. They look eye-catching, extravagant and don't even break the bank! The great thing with these is that they are custom prints which can be made by designing the way you want. Song lyrics, poems or even wedding vows on canvas prints seem particularly striking as white fonts onto a black background. You can have any colours, fonts and styling you like, but this is a classic that always works.
If you are looking to gift something to a music-lover, teach music lessons or want to decorate a studio, lyrics on canvas are your answer. Or, if you simply want to liven up a room with some of your favourite verses, put song lyrics on canvas to brighten up your space.
So before the trend catches on, here are a few reasons why you own music lyrics canvas: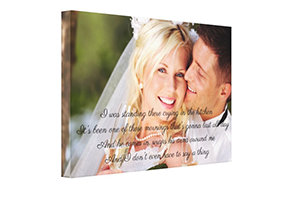 For starters, this opportunity gives you a platform to design a canvas precisely the way you want. In other words, you get to create art that you won't find anywhere close in your proximity or replicated in any way. Even if it does become a trend, then the artwork of your chosen song is original to you and you alone.
By keeping music lyrics that are unique to you, you can save time, energy, and money. You don't have to feel like you have to put it on display to enjoy it. Invest in a lyrics canvas if you are tired of looking at the same old, conventional art on your walls that is generic.
Song canvas is also a significant investment if you want to keep your favourite memories. They can be used as fantastic holiday gifts for family and friends who are about to mark a milestone – wedding, birthdays, anniversaries, baby showers, etc. Additionally, under normal circumstances, canvases last for years, thus ensuring that your investment will regularly satisfy you.
What else do tell you about to get you into the art of music song lyrics canvas? Create a beautiful canvas with your favourite lyrics on it at CanvasChamp.