Launching Our Very New Product- Magic Photo Mugs!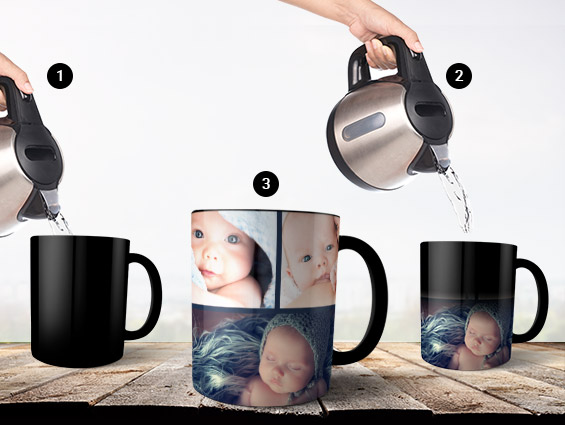 It is time to perk up your pantry with one of our newly launched magic photo mugs! Brew up your favourite beverage in our unique magical mugs that you or even your loved will enjoy as a gift to them.
You can indulge in a cup of tea or coffee with a magic mug which has a personalised photo from any of your photo collection. It could be your children's photo smiling back at your, your furry pet, favourite holidays or a religious family event. Take it to work or at home, enjoy such beautiful memories that appear magically on your mug with hot chocolate. Personalised magic coffee mugs can be excellent gifts for all occasions.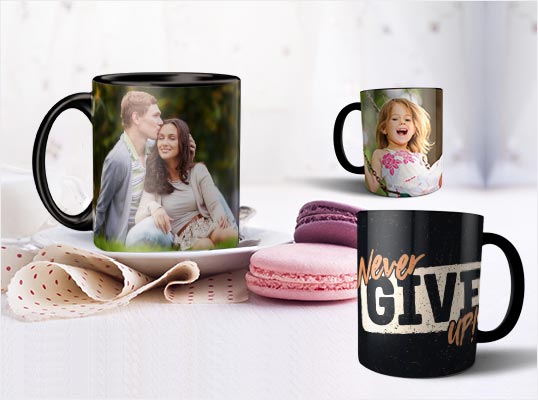 We have designed an editing tool on our website that makes it easy to choose customisation from our vast colour-changing mug options. To make your style stand out, just select the right photo with the correct matching colour, and it will be a hit!
We know you must be bored of gifting the same universal mundane things to your loved ones. Hence, we decided to introduce you to customised magic mug to which you can add a personal touch to make it magical. Designing a mug is so easy with us that a custom magic mug will instantly become an attractive option for you to gift on any occasion. The colour-changing elements and the picture you choose itself will give a mystic aura to such a beautiful gift.
WHAT'S THE MAGIC IN THE MAGIC MUG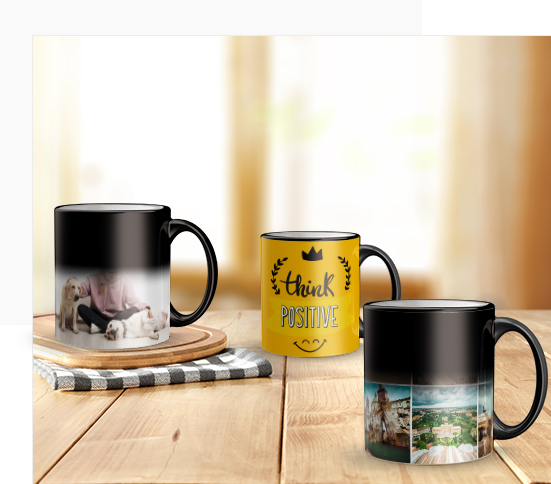 You must be wondering what's so magical about these colour-changing mugs. Well, it's not precisely magical, but the science of it surely is! A magic mug has an effect that allows it's colour to change from its original form and reveal a picture printed inside when hot liquid is poured in it. Initially, the mug looks all black, but when the beverage is served in it, it slowly becomes transparent to show the photo inside!
Magic photo mugs come in various colours, but black is by far the most popular among them. It seems a better choice in colours as the mug appears to be ordinary and plain with a photo concealed inside of it at room temperature. The picture beneath the coating might become slightly visible if the outer colour is light, such as blue or yellow or white. Hence, black colour is preferred for printing these mugs as it covers the surprise well.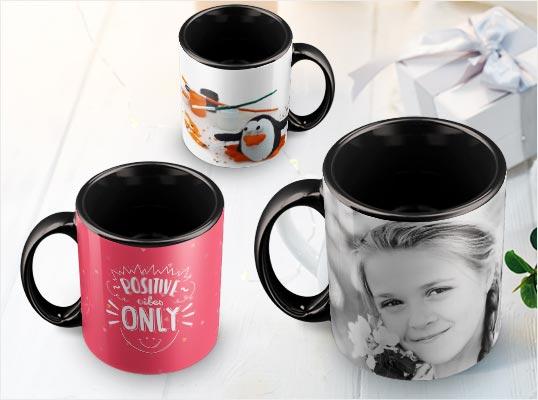 Such a surprise to a loved one will light up their faces when the picture is magically unfolded as the hot coffee is poured. The pleasure gets even happier when a personalised photo appears on the mug. What more is that the picture receives covered back by the solid colour of the mug when the beverage inside cools. Now such an experience is for sure deemed as a magical experience.
Get to design and upload a picture on this personalised magic photo mug. Choose your favourite photos of the excellent resolution, upload it on our website editing tool and we will prepare it for you! We have the best laser printing technology and also assistance on call to help you choose the right design and photo for your mug. Make your gifting look premium style by personalising a perfect resolution photo on a mug!