Captivating Colour-Changing Photo Mugs
Rejoice special moments with loved ones by gifting a magic coffee mug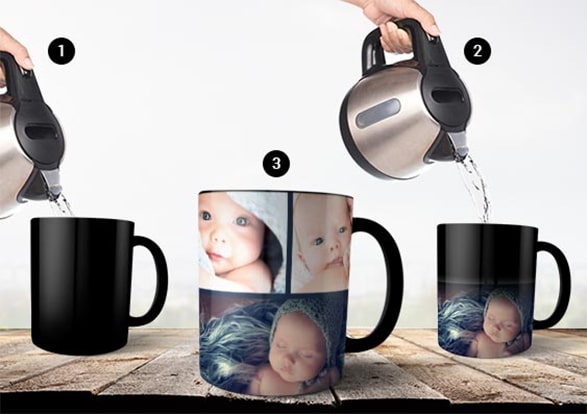 Give Customised Magic Mugs as Gifts
Make a beautiful custom-printed magic mug to gift all your friends and family. A black coloured mug that reveals a picture of your choice when a hot beverage is poured inside the mug. Gift it for the magic it shows every day of the memories.
Product Details:
11-oz. liquid-filling capacity
Has a heat-activating coat that vanishes to reveal an image
Collage or single wraparound photo options available
Add an optional custom text on your magic mug
Magic Mugs That Support a Happy Mood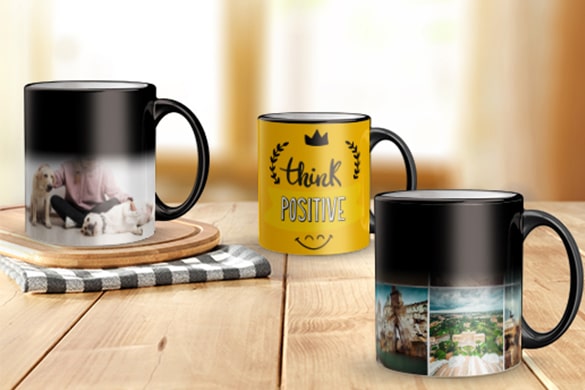 Make your mood happy any time of the day with magic coffee mugs. A fantastic gift for any particular moment; these mugs hold onto your sweet memories until you pour any hot beverage in it. The solid overall black colour balances with your exciting moments when they are displayed.
Choose a single wraparound image or up to four photos.
A variety of layouts for multiple images option
Add custom text and clip art to enhance the image/s
11-oz. size means more delight and fewer refills.
Get a Magic Mug Printed Online in the Easiest Way
Explore your creative concepts to design your very own personalised magic photo mugs
Want to Invite Friends for Tea or Coffee?

Get a Message Across to your Loved One or Friend

Colour-Changing Mugs Online
Create a Personalised Magic Mug for You or Your Friends
Start Your Morning with Enchantment in Your Cup
Is it hard for you to get your morning good going? Personalised photo magic mugs bring in freshness to your otherwise dull cup of morning coffee! These black-coloured magic mugs are sure to hypnotise as you gulp down your favourite elixir to start your day.
Plan Creative Moments– Magic Mugs for Gifts
Magic coffee mugs make fabulous gifts for your loved ones and friends. These black heat-activated cups only need a hot drink to reveal enigmas that will cast a spell on whoever holds them. Use personalised magic mugs to remember graduations, weddings, and other special times. These mugs are also unique and robust to showcase your children's artwork or photos. Make your custom magic mugs online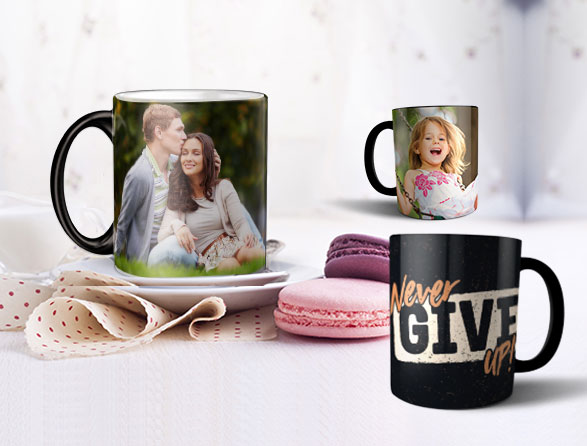 Wake up With Personalised Magic Mugs Showcasing Your Memories and Quotes
Mornings are boring as it takes time to wake ourselves entirely from a good night's sleep. So let magic mugs encourage things up! Just add a hot liquid into the magic mug and there, your happiest moment is revealed! Now keep sipping while you reminisce that moment when the picture was taken.
Choose a panoramic option to create a stunning magic mug with one photo, or combine several if you can't choose a favourite picture. Add text to particular special sentiments or include a passionate phrase to be uncovered over and again. Instead of an individual photo, select an image or meme for amusement that is hidden from keen eyes when not in use.
If you're looking for something less attention-seeking and more apparent, then check out our personalised photo mugs which are available in eight lively colours.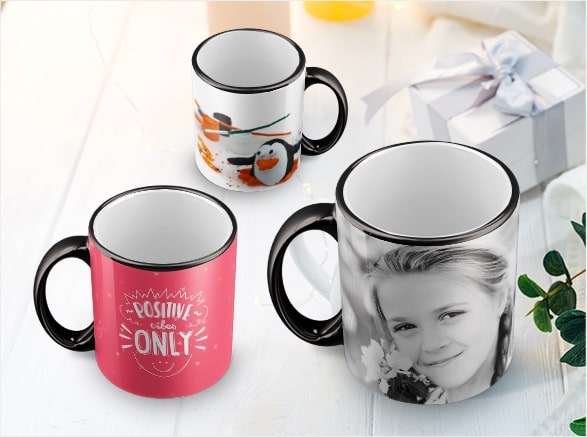 Become a Magician to all Your Friends and Family
Work your magic with these fantastic magic mugs to surprise anyone that sees them. These personalised magic mugs start as plain black mugs, but once you pour a hot beverage in them, they change colour to a bright and pleasant design or photo.
Breathe a bit of magic into the lives of your loved ones by gifting them these amazing magical mugs. It will surprise and delight them every time they use them. Gift it to kids who adore such magical whims and would get exhilarated every time a photo is revealed. These magic mugs are also great for promoting your brand and will leave people awestruck wherever you present them. They will burn your company's brand into the minds of the people with its enchanting alteration.