Pop Art - a Movement, an Art, a Masterpiece
When we talk about canvas pop art, what comes in your mind? Think about the artists who started the pop art movement. If you are thinking Roy Lichtenstein, Andy Warhol, and Claes Oldenburg, you are right on point. When we think of pop art, our mind automatically wanders to Roy, Andy, and Claes, the artists who contributed to the movement in the early 1960s.
However, the movement began was already in full swing in the mid 1950s, but it really took off in the 60s, when artists such as Warhol reintroduced it. Instead of focusing on what most artists of that time focused on-history, mythology, and morality-pop artists chose to modernize the art form, directing their focus to designing objects and people.
Now, pop art has become one of the most popular art form. It has even made itself a place in the pop art on canvas category. We have three amazing pop art collections in store for you. That you can get a personalised canvas printing made either for yourself or give someone gift.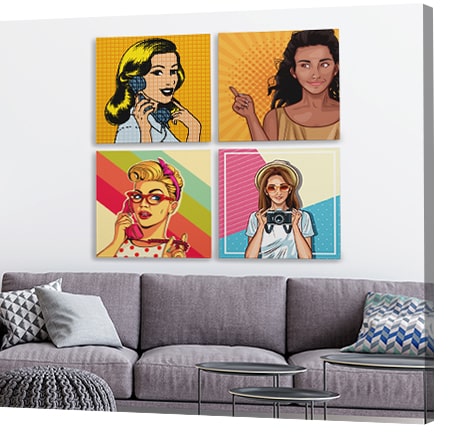 Our Pop Art Collection
Fans of pop art who want to add an incredible effect, perfected by credible artists of the pop art era, should consider choosing from the following effects: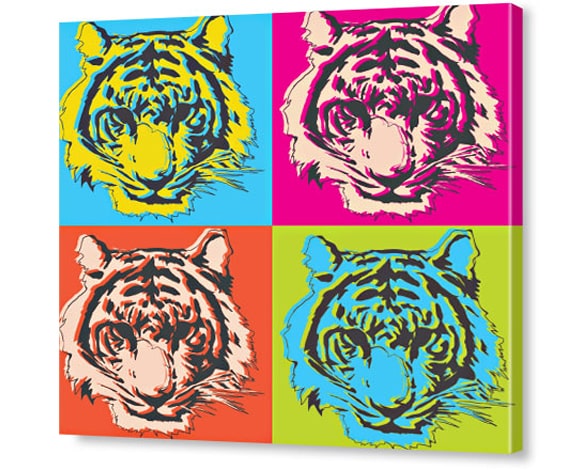 Andy Warhol
Look through our amazing collection of Warhol inspired portraits.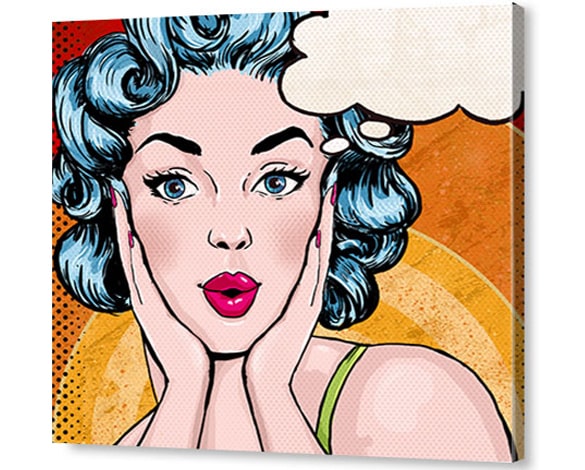 Roy Lichtenstein
For our comic style portrait collection, we take inspiration from the one and only Roy Lichtenstein. The artist paid a great deal of attention to detail, and so do we.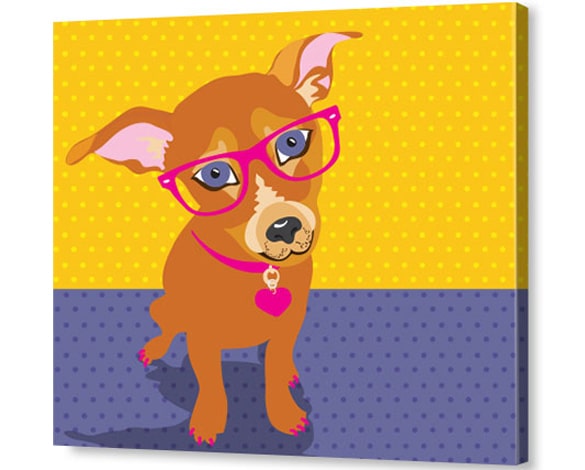 Glo Portrait
The Glo Portrait, although not an artist, but a type of style, encompasses of vivid colours, brush strokes, and realistic texture.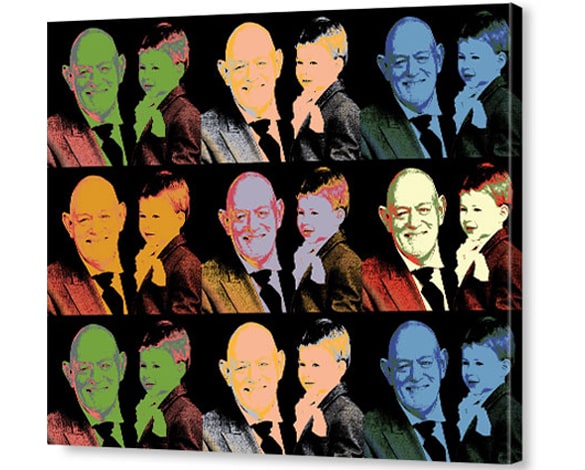 What Can We Get For You?
We present you with a wide variety of choices. Once you have made your selection, we handcraft your digital drawings and mixed media using the pictures you submit to us to convert it your chosen style.
For us, canvas pop art printing is an intricate and detailed process, one that we have perfected over the years. If you are feeling uneasy about the quality of the final product, don't be, as we promise 100 percent satisfaction. If you do not like what you see, you can return the canvas pop art back to us within 30 days of receiving your product. In fact, our return policy will satisfy you too because we offer a free replacement and a refund of the complete price.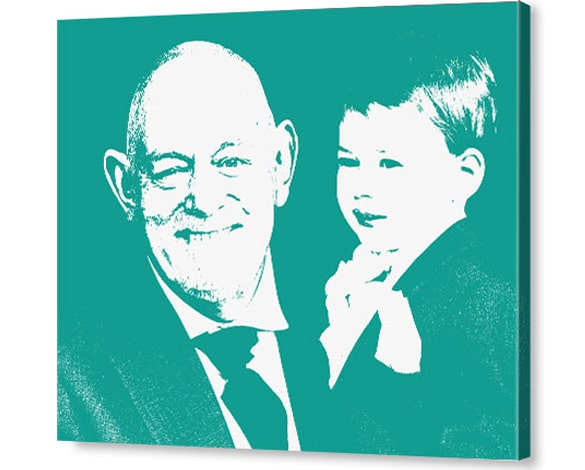 What Are Some of the Designs We Offer?
From us, you can purchase a style inspired by a pop art artist, a glo portrait style, che, coca cola theme, coupe, dollar, mao, and more. You can check what other styles we currently have present in our collection when you place an order and fill out the required information.
Now, It's Your Time to Get Inspired by the Pop Art Movement and Reflect it in Your Picture!
Q:

I don't see where on the screen there is a place for me to type the text I want to appear in the cloud for the Lichstyle print. How do I do this?

A:

You can just write us an email on cs@canvaschamp.co.uk stating your order number and the text you would like to print in the cloud. Our design team will send you a proof of that for your approval soon.

Q:

How do I order a Pop Art that has multiple photos in one canvas? Like the one of the girl on your website...and is that a Warhol background?

A:

Pop art basically consists of two categories: Warhol and Lichstyle. In Warhol, you can have a single picture with 4 different effects or 4 pictures with 4 different effect boxes on a single canvas print. Where as, in Lichstyle, you can only have a picture of a single image printed on a canvas print. So if you want to have multiple pictures printed on a single canvas print, then you would have to go with the Warhol style. For more detailed information you can contact us at cs@canvaschamp.co.uk and get in touch with our design team to send you a proof of your pictures.

Q:

Is the pet Glo Portrait style in pop art only for pets?

A:

We can do any picture in pet glo style, but it would look best with your pet's photo! You can also have your pictures with your pets done in this style of pop art.

Q:

What kind of pictures are ideal for pop art?

A:

Pop art would work perfectly with portraits or those pictures which captures a person's facial expressions! We definitely would recommend selfie pictures for pop art as they give a lovely output with the right effects and backgrounds.

Q:

What is the exact difference between a Warhol style and a Lichstyle pop art?

A:

A Warhol style pop art will print your portrait in different shades and effects as listed on the website and a Iichstyle pop art will give similar background colours and effects as shown in the displayed picture with a cloud . Additionally you can also get some text written in that cloud. In Warhol style, you can also have 4 different pictures with 4 different effects printed on a single canvas. For more details send us an email at cs@canvaschamp.co.uk

Q:

How can I see the preview of the effect I select on the picture in pop art ?

A:

You would not be able to see the preview in pop art at present. But after placing your order and uploading the file, you send us an email asking for a proof of the final output to know how your image would turn out to be. You can also ask for applying a different effect in case you change your mind. For more details, email us at cs@canvaschamp.co.uk
Ask about Make Your Own Pop Art Effect and get answer in email.