Canvas Prints
Flat 87% Off On Custom Canvas Prints | Promo Applied!
Special Offer:

Buy 2 Canvas Prints & Get 1 Free |

Use code:

B2G1CANVAS | View More Offers
The CanvasChamp Exception
You can rely on our experts about all your special memories. Only the best materials are used, and supreme quality
is offered at a reasonable price; that is our guarantee
Canvas Prints
Made in UK

99+ Year Canvas
Quality Guarantee

Lowest Price in the
UK Guarantee

Free Standard
Shipping in 5 - 10 Days

Free Hanging Kit
Canvas Prints with Personalised Features
Read on for more information about our best photos on canvas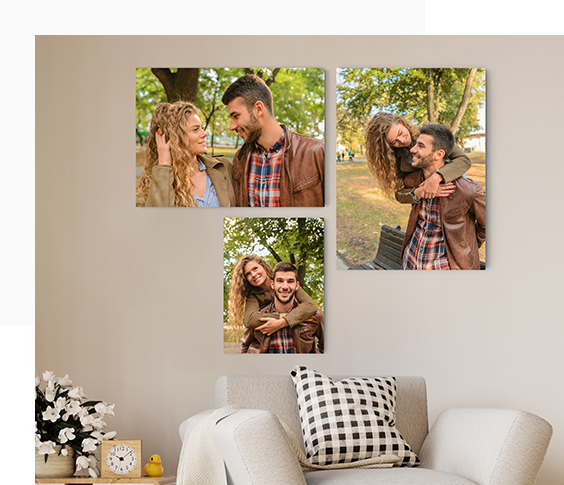 Get the Best Canvas Prints from Us
CanvasChamp specialises in custom canvas prints in the UK of your treasured photos. Through our choice of modern printing techniques coupled with a vast range of vibrant colours, we can deliver superb razor-sharp definition with every custom canvas print. We deliver your prints to your door within five working days after ordering.
Best Materials for Canvas Printing
Our expertly crafted stretched canvas prints are ready to hang and constructed using wood from sustainable sources. We provide robust solid wood frames up to 3cm thick. All of the materials and inks used in our products are environmentally friendly. The canvas has a brilliant colour reproduction, and the colour depth is incredible! Your photo on canvas will also be water-repellent and scratch-resistant, so you can carefully dust it off with a damp cloth. We want to ensure that you can enjoy your personalised canvas prints for many years to come!
Canvas Prints in the UK- Shipping Charges and Delivery Time
Our standard shipping costs for sending canvas print sizes are £4.99. The standard delivery time is five to ten working days. No matter how many products you order, you always pay the shipping costs only once. At times, we also offer free delivery on orders, so make sure to subscribe to our newsletter so you don't miss any money-saving specials!
99+ Years Guarantee on Canvas Photo Prints
We offer long-lasting guarantees. We also have a full money-back guarantee policy. Now you might think: "I hear that claim frequently, but what does that really mean?" Our not-good-money-back guarantee implies that if you find anything wrong with your framed canvas prints, we will remake the product for you or return the money immediately! We also give a 14-year guarantee on our products, and on top of that, another 85-year guarantee on the colour! Ultimately, our goal is that you stay super satisfied and happy with your CanvasChamp product and that it keeps hanging on your wall perfectly for decades to come.
Why Should You Order Online Canvas Prints in UK from CanvasChamp?
We offer you a really low price guarantee
Fastest delivery in the UK.
Not 100% satisfied? You can simply get your money back.
Top ratings from 6,000 customers. Our customers rate us with a 4.7/5 on an average.
We supply all of our products with a FREE hanging kit.
Your Photo Canvas Prints from CanvasChamp.co.uk
Being the best canvas printing services in the UK, we guarantee you the lowest priced canvas prints
STEP 1: Upload online on our website your favourite digital photo from anywhere.
STEP 2: Choose any preferable size available from 8 x 8 inches to 54 x 54 inches.
STEP 3: Choose a wrap for your canvas from mirror wrap, image wrap or a coloured border options.
STEP 4: Customise your canvas with a choice of colour finishes and wide array special effects.
We offer a variety of hanging and display options.
STEP 5: Check the option for lamination, if you desire, along with any minor or major retouching needed before paying for the cart.
Adorn Your Home with Photos on Canvas
We create the highest-quality photo canvas prints that are sure to impress.
What Peoples Frequently Asked about our Canvas Prints
We know you might have a few questions. Go on, find what you need below:
Does my canvas get delivered with a hanging kit?

Yes, it is included with all types of our canvas prints. The hanging hardware keeps the canvas sturdy and straight.

What are photo canvas prints?

A canvas print is not to be confused with a canvas painting. It is an image printed from an inkjet printer onto the canvas. Once printed, the canvas gets stretched onto a frame.

How do I hang canvas prints?

Step 1: In pencil, mark where you want to place your canvas on the wall.
Step 2: Carefully hammer the hook into the spot you've marked on the wall with a pencil.
Step 3: Attach your bracket to the back of the canvas.
Step 4: Hang your canvas.

Why canvas prints?

Well, first of all, they are cost-effective. Second, they don't have a glare or reflection on the artwork or photos. Thirdly, you can order any size of the print up to 54 x 54 inches. Also, they make excellent and elegant gifts.

How much does it cost to print on canvas?

Depending upon the size of the canvas you need, an 8 X 8 inches canvas generally starts at £3-4 and goes up till £500 to reach the size of 54 X 54 inches. You can check out the price while selecting the size in the design tool or on the product's webpage.

Will canvas prints fade?

All prints fade if kept under direct sunlight. Though some inks are better at lasting in that environment over others, even old film photographs will fade in direct sunlight. The high-quality canvas used by professional canvas print service providers remains fade-resistant for more than 99 years.

Can canvas prints be framed?

One of the advantages of canvas prints is that they can be hung immediately on your wall without framing, but canvas prints can also be mounted to give a finished look if you need. Since part of the beauty of a canvas print is in the texture of the canvas, even when framed, canvas prints are not generally hidden behind glass.

What are the best types of canvas prints?

Gallery Wrapped Edges - Some of our most popular products are canvas prints with the gallery-wrapped edges.
Framed - Framed canvas prints work best for decorators who prefer a traditional look, but who desire the texture of a canvas print.
Collage - You can be your own interior designer in choosing a variety of photos and layouts with these print-to-canvas projects!
Panoramic - For a longer picture of a group or a landscape.

What is the difference between mounted prints and acrylic prints?

There is frequent confusion between mounted prints and acrylic prints. A mounted print is a paper print attached to a backing board. The emphasis of this print is to preserve the photo and prepare it for framing or hanging on a wall. An acrylic print takes an image printed on photographic paper and imprints a mirror image on the back of a plexiglass sheet.

Are canvas prints waterproof?

No original cotton-based canvas prints are waterproof. You might have to choose a 100% polyester canvas print, but then the quality of the artwork differs from the original cloth-based canvas. Polyester canvas is still an option for you if you want a waterproof canvas. However, we serve a poly-cotton blended canvas.

How do I order canvas prints?

Select the size, upload your photos, select the frames and other options you'd like to add to your personalised photos on canvas, and then choose the checkout options.
We will send you a preview copy of your image before shipping your product to you.

What are stretched canvas prints?

A canvas that is stretched on a wooden frame is called a stretched canvas. A canvas print is the result of an image printed onto the canvas that is stretched, or gallery-wrapped, onto a frame and displayed. A stretched canvas is more convenient if you plan to display your picture immediately and are not planning to store it.Canvas Prints with Personalised Features
Get to Save Time & Money!
Subscribe to us and receive crazy deals
Fantastic Offers

New Product Launches

Blog Tips & Ideas