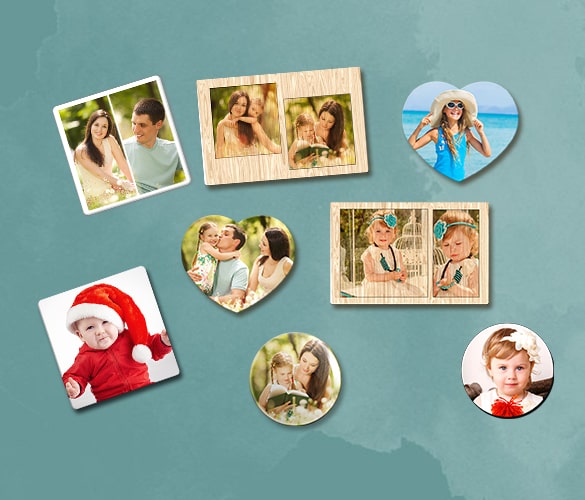 Memories to stick with you forever!
Weak fridge magnets tend to fall from their placement a lot. Despite them being lightweight, they would always lose their magnetism sooner or later and end up dropping things all over the floor. Well, no more of that disappointment! We have some of the strongly magnetised custom photo fridge magnets that can hold up any paper. With us, you can make photo magnets online in any creativity and design as you wish.
Create your very own photo magnets in acrylic, metal or wood that can withstand its hold on any metal surface along with holding on to your memories! Find a way to squeeze in all the best memories that you want to cherish in one or more than one photo magnet!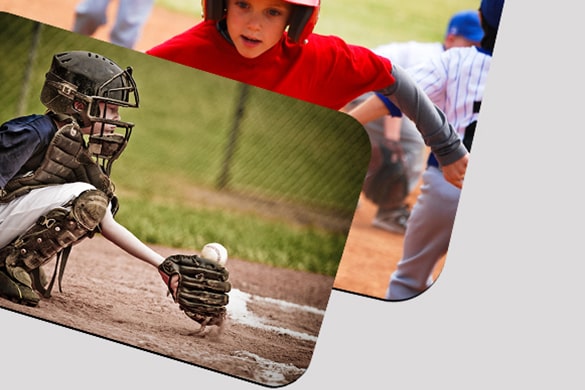 Photo glass magnets that are enduring
Embedded with a strong earth magnet, our photo magnets won't let any time fall from a metal surface again. And that holds for every magnet type we offer .i.e. a high-quality acrylic type, plated steel or even ¼-inch plywood-made magnet. The ink that we use to print your photos is fade-resistant, and a polyester coating on top of it makes it even further long-lasting.
Send Your Love With Personalised Photo Magnets
Make custom photo magnets for any event, occasion or purpose! It will be irresistible to design just one when it's so easy!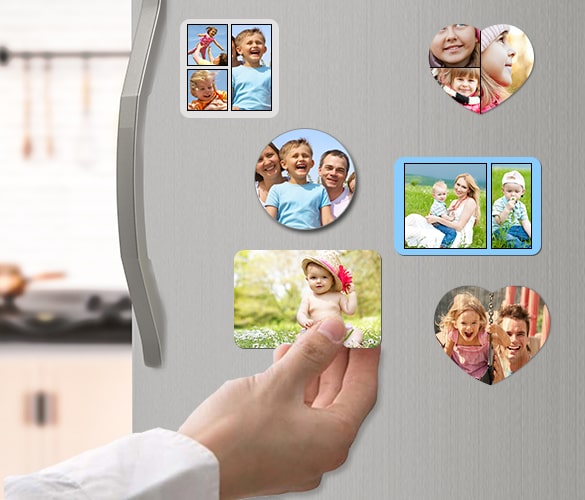 There are plenty of things you can arrange the photo magnets on, and also you can place them in any living space. They are not only for displaying photos but can also be used for decorative and informational purposes.
DISPLAY:
Show some of your best memories on your fridge. May it be wedding memories, kid's drawings or even some favourite motivational quotes to get your day going. Showcase anything you wish just at a click of a button.
ORGANIZE:
Through these custom photo magnets, organise your messages, notes, papers and bills with an order. See how neat and designed your fridge would look with it.
PROMOTE:
Magnets are a great way to get your message noticed by generally anyone. You can use custom magnets not just for photos but also to print your business logo or promote an ad campaign too.
SHARE:
Photo magnets are as lovely as gifts! Just get hold of some good times of the recipient and print them on different shapes of photo magnets! See how delighted your friends and family will get with a gift like this!
IMAGINE:
Only you can limit your imagination when it comes to creating photo magnets. Loosen all your creativity and create a stunning party photo or a travel photo with several customising options available. Just simply follow each option needed to retouch your photo in our designing tool and start giving photo magnets hardly at any cost!
Design From Three Types of Photo Magnets
Get to choose a material that you like!
Acrylic Photo Magnets

Wooden Photo Magnets
OUR PHOTO MAGNET DESIGN TOOL WILL HELP YOU CREATE CUSTOM MAGNET WITH COMFORT
Select from options available in size, shape and materials and slowly watch your photos change into customised magnets!
MATERIAL & SIZE

Materials are available in metal, wood and acrylic. Once you decide the body, pick the right shape needed for your purpose. Sizes will appear just beside the shape option. Narrow down to one size you think is right for you.

UPLOAD IMAGES

You can upload images from any device and location. File types accepted are PNG, JPG and BMP (up to 25 MB). Even log in to your Facebook or Instagram to upload photos directly from your profile.

BACKGROUND

You can pick a colour from our palette to match to a border if been shown in your magnet. Otherwise, this option is optional unless you have a photo with border.

LAYOUTS

How many photos you want? One? Two? We give you an option to print up to four pictures in one magnet.

ADD TEXT

Like a quote or lyrics? Well, add custom text to your magnet then. Get to choose from different fonts, font colours, font sizes to make your photo magnet look just right.

CLIP ART

Can't decide which photo or text to put up? Well, try our clip art option to make your photo magnet space even cooler.
Custom Photo Magnets FAQs
We know you might have particular questions regarding photo magnets. You can check some questions asked often as below or contact us for any assistance.
Our custom magnets are printed with your specified photo, text, or image and feature a powerful earth magnet embedded in the back for a strong hold. Photo magnets can stick to iron, nickel, and cobalt, as well as to blended-iron metals, such as steel. Common surfaces for magnet use are refrigerators, lockers, file cabinets, metal shelves, and white boards. It is always important to remember, though, that magnets should be kept away from laptops, smartphones, tablets, or anything with a magnetic field.
Q:

What kind of surfaces can a photo magnet adhere to?

A:

Our custom photo fridge magnets come with a strong earth magnet. And these earth magnets can stick to iron, nickel, cobalt, and some blended-iron metals such as steel. Usually, these kinds of elements are found in lockers, cabinets, refrigerators, metal shelves, and whiteboards.

Q:

Why are fridge magnets so synonymous with kitchen decor?

A:

Magnets were designed to be utilised in the space industry. They were meant to be used for magnetic numbers and letters on large visual tracking charts. Demand for magnets grew soon from the Space industry more, and new techniques for moulding them were developed. Sam Hardcastle, the inventor of classic magnets, began creating them for the household use and souvenir industry which led it to become a favourite collection hobby for collectors. Today, magnets are accessible and customisable the way anyone wants. People use it to adorn their fridge since that was the only thing that attracted magnet on it before. But as we started using more metallic objects into our daily lives, magnets could decorate any space. Even companies use it for ad promotions and branding purposes.

Q:

What are the best ways to give photo magnets as gifts?

A:

As these photo magnets come in any size and shape, they create an ideal hobby for fun times. Easily able to fit in envelopes to gift, they can be gifted in occasions like graduation, wedding announcements, baby showers, etc. Christmas and other festivals Family photos are given out during Christmas cards and gifts. Instead of hard photo paperback, try out a family photo from recent vacation on a personalised photo magnet this time. Create a collage of all the places visited, or milestone achieved for the year. Dorms, First Apartments, or Office Dull dorm rooms can be animated with funny sayings and smart quotes. Since it is tough to find permanent decorations for apartments, photo magnets UK can make things cheerful in any rooms. Office whiteboards, employee lockers or file cabinets are the right places to decorate photo magnets. Can also be given during Secret Santa gifts to office colleagues. Get Creative When you have other options to print photos on other than paperbacks, having a photoshoot becomes fun for it. Making photo booths or destination photo shoot to baby photoshoots, you are just one click away to showcase your imagination and creativity.

Q:

How can I use customised magnets to promote my work?

A:

Personalised magnets can be "the tradition-breaker" in the field of advertising. Companies can use photo magnets to share their vital business info with their clients. Creating a designing with a lasting impact without the hassle of hyperlinks and shortcuts is sort of a win-win. Since photo magnets can be made as small as a 2.5 x 2.5 inch, they can easily be spread to people with flyers at conferences, meetings and tradeshows. Their survival rate is much better than other promotional items which are usually based on paper.

Q:

How do I create my custom photo magnets?

A:

You can create your very own stylish photo magnets only by following the below steps: 1. Material & Size - Go to our editing tool for photo magnets and choose the first option to decide on a material and size. 2. Upload Images - Upload the image/s you want to get printed 3. Options - Customise the photo magnets through various options like background, custom text, clip-art 4. Check out - Once you complete designing, check out the cart of your personalised photo magnet/s, pay online securely and wait for your items to arrive at your doorstep! It's as easy as it can get to make photo magnets online with us.
Ask about Photo Magnet and get answer in email.