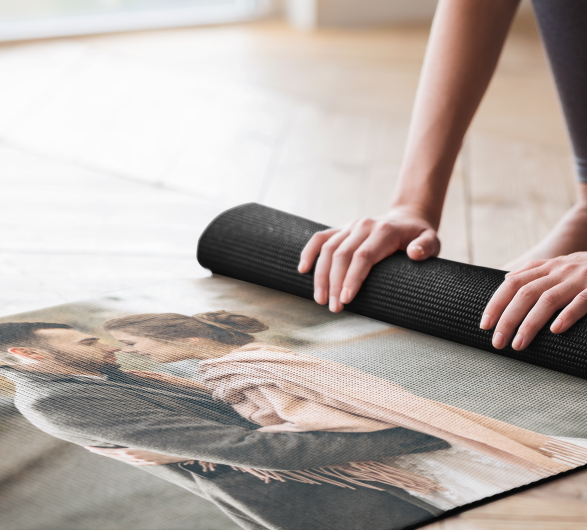 Custom Photo Yoga Mat
Practicing yoga has several benefits. From better physical health to improved mental health, yoga works wonders! But that doesn't mean it's not challenging! Most yoga beginners find it hard to stay consistent in the first few months! That's where CanvasChamp's custom-printed yoga mats come to the rescue.
Get your custom printed yoga mats from CanvasChamp now! These beautiful, thick printed yoga mats are made from the finest material that prevents slippage if you sweat a lot during your practice. Moreover, you can use them as your vision board by printing your vision on the mat. So, every time you start your yoga routine, the custom printed yoga mat will remind you why you started in the first place!
Why Buy Custom Yoga Mats from CanvasChamp for Any Occasion?
A must-have for fitness freaks
Yoga followers
For anniversary gifts
Promotional events for Businesses
Good fit for lovers
Any other day that needs a special gift
A Gift for Healthy Lifestyle - Custom Yoga Mats
Family Photo

Print your joyful memories with your family on the yoga mat and smile every time you perform yoga.

Father Photo

Father is the strongest man. Admire his strength by getting a yoga mat printed with your father's picture.

Mother Photo

It is true! Mother did not teach us to live without her. Carry your best memories with your mother with a custom printed yoga mat!

Sibling Photo

Siblings are crazy species. But without them, life is incomplete. Fill the void and get those childhood memories printed on our custom yoga mats.

Sister Photo

All sisters are 2nd mothers. Let her know you appreciate her by printing a cute message for her on the personalized yoga mat from the UK and gift her.

Brother Photo

Brothers are the best protectors! Let him know how much you adore him by gifting custom printed yoga mats with his photos.

Wife Photo

How would a husband find his things without a wife? Print a cute message on a printed yoga mat for your wife to help start her day with a smile on her face. She will fall in love with you every day!

Husband Photo

Get your man started. Get your husband started with a healthy routine. Encourage him to try yoga by printing his favorite pictures and cheesy notes.

Daughter Photo

Gift your daughter adorable, personalized yoga mats with her cute childhood picture. We are sure she will love them.

Son Photo

Remind this handsome hunk that he will always be a child in your eyes with custom yoga mats printed with his embarrassingly cute photos.

Girlfriend Photo

Get your yoga enthusiast girlfriend a beautiful custom yoga mat printed with her favorite yogic quotes. We're sure she will love it.

Boyfriend Photo

Health is Wealth. Encourage your boyfriend to try out yoga by gifting him punky custom printed yoga mats.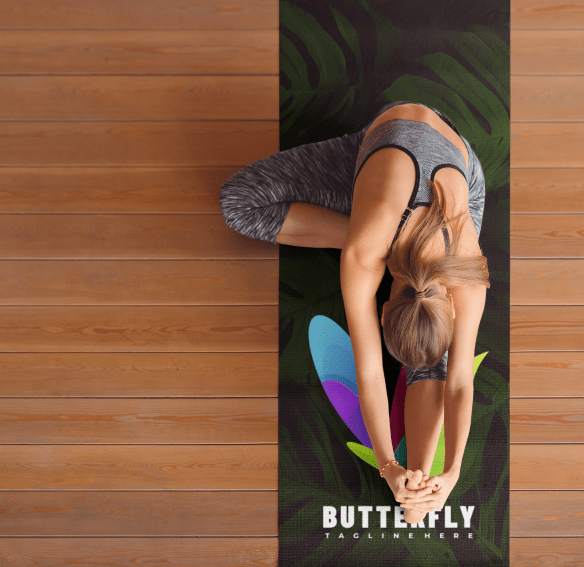 Custom Yoga Mats for Businesses
When designing promotional materials, most businesses think of brochures, cups, and water bottles. But all these promotional materials are quickly getting boring. Businesses need something new to stand out. That is where custom yoga mats from the UK come into the picture. Imagine your customer's surprise when they receive yoga mats with your logo instead of some cup or stationery. We are sure they will remember your brand for a long time.
CanvasChamp lets you design your custom logo yoga mat that compliments your brand and expands your reach. You can reward your employees for promoting health. Get a customized yoga mat now!
FAQs on Custom Yoga Mat
What Is the Best Thickness for a Yoga Mat?
The best thickness for a firm grip yoga mat is 4mm to 5 mm.
Can I Make My Yoga Mat?
Yes, CanvasChamp is a leading custom yoga mats manufacturer. Simply visit our website and follow a few steps to get your own printed yoga mat.
Is A 4 mm or 5 mm Yoga Mat Better?
If you want a soft-landing yoga mat, you can go for a size between 4 mm to 5 mm
How To Print Yoga Mats?
To get your printed yoga mat, you need to upload your picture using the design tool on the CanvasChamp yoga mat website.
How to customize your yoga mat.
You can customize your yoga mat by uploading a photo on our website.