With wood prints, you can creatively attain perfection
Be it a single picture or a collection to narrate some story. You have a list of options to fit your need.
We print the way you imagined
At Canvas Champ we present you a range of customising options. You just need to think of the size and the way you want, our team builds it for you. Well, yes the imaginations do come true.
8" x 8" Wood Print

Out of Stock

8" x 10" Wood Print

11"x14" Wood Print

16"x 20" Wood Print
Turn grand moments to grandeur
Well, it isn't just the size, you can further enrich the look of your photos on wood. We are talking about dictating the story through panel wood printing. Do you have a story to share?
Single Piece Wood prints

Your basic partner to share your special moments through wood prints. Choose the most memorable picture and let us imprint it with high-end expertise.

Three Wood Print Panels

Take your creativity to next level and don't just share a moment. With three-piece wood panels, you can adorn your photographs with perfection defined creatively.

Four Piece Wood prints

We don't want you to confine your imagination or love. This is why our team of experts give you the rights to share your special moments loud and clear.
Personalise your wood print to express your personal feelings
We understand how special your loved ones and the moments you spend are for you.
[+]
Product Details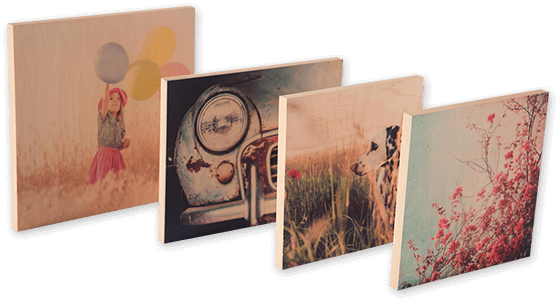 Define the thickness
To ensure that your wood print looks perfect and remains lightweight, our experts recommend using 0.75" as idol thickness. The width is also considered for its durability.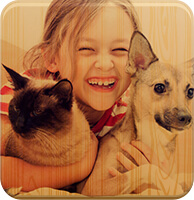 The special touch
To ensure that your wood prints deliver maximum visibility by keeping off the glare, we have two matte finishes; white and natural and we know how to use them wisely.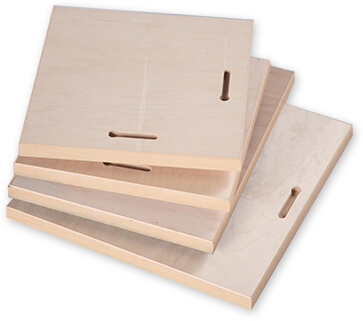 Hanging options
For us delivering the satisfaction of our customers is the first priority. This is why we deliver wood prints in ready to hang state without any hustle and flaws.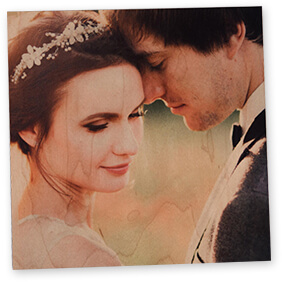 The quality of wood
After thorough analysis, our experts rely on Chromaluxe Wooden Panels to build best quality wood prints for you.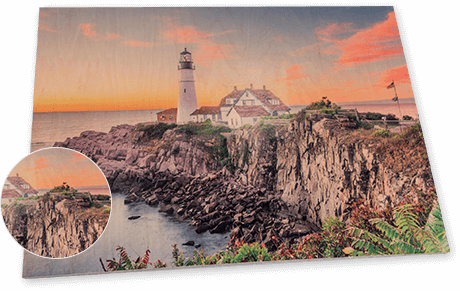 Image resolution and DPI printing
It isn't just the panels that make quality wood prints, we consider 1040 as the best Digital Photography Imaging (DPI) for printing.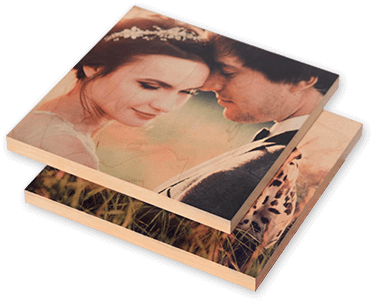 The material we use
While every wood print gets directly printed on wood. We use permanent UV which not only reflects unique natural patterns of the wood but also ensures that it stay with you forever.
We are known to deliver quality-satisfaction
Our customers don't just love us for our wood prints, but they also love us for our services
Take a step to preserve nature

By printing photos on wood, you can take a step towards preventing the environment. [+]

Know what is wood printing?

While to some, it might look like rocket science, but wood printing is all about [+]

Your reliable alternative to canvas prints

At CanvasChamp we don't just want to let you share memories [+]
Print your pictures on wood and preserve the memories for years
Let our wood prints add life to your splendid memories
Some memories have special place in our heart
The reason we take pictures of some special moments and keep them secure is that they have a special place in our heart. However, if you really want to keep these special moments forever, we believe a digital copy isn't enough. Print them on wood, and let your home speak the language of love.
Well, if you are still wondering about the occasions that you can choose. Here are some of the most used occasions;
Birthday Photos

Art Print - Vintage Car

Favorite Pet Photos

Preserve Travel Memories

House Warming Gifts

Memorial Photos

Natural Art Flowers

Valentine's Day

Wedding Photos
Want to place an order? Here's how
To add ease to your buying experience we have ensured making it possible in four simple steps