With wood prints, you can creatively attain perfection
Be it a single picture or a collection to narrate some story. You have a list of options to fit your need.
We print the way you imagined
At Canvas Champ we present you a range of customising options. You just need to think of the size and the way you want, our team builds it for you. Well, yes the imaginations do come true.
8" x 8" Wood Print

Out of Stock

8" x 10" Wood Print

11"x14" Wood Print

16"x 20" Wood Print
Turn grand moments to grandeur
Well, it isn't just the size, you can further enrich the look of your photos on wood. We are talking about dictating the story through panel wood printing. Do you have a story to share?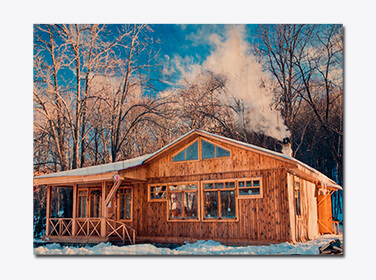 Single Piece Wood prints
Your basic partner to share your special moments through wood prints. Choose the most memorable picture and let us imprint it with high-end expertise.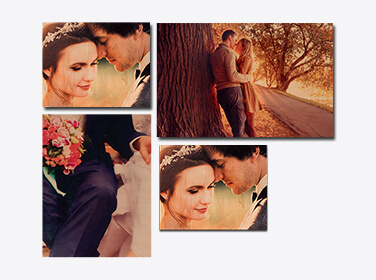 Four Piece Wood prints
We don't want you to confine your imagination or love. This is why our team of experts give you the rights to share your special moments loud and clear.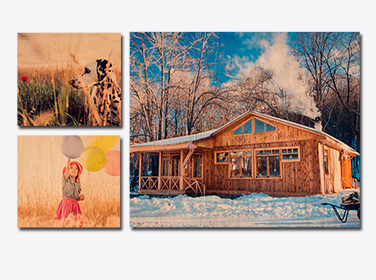 Three Wood Print Panels
Take your creativity to next level and don't just share a moment. With three-piece wood panels, you can adorn your photographs with perfection defined creatively.
Personalise your wood print to express your personal feelings
We understand how special your loved ones and the moments you spend are for you. This is why we let you decide the way your wood print must look while maintaining quality. Here's how:
Product Details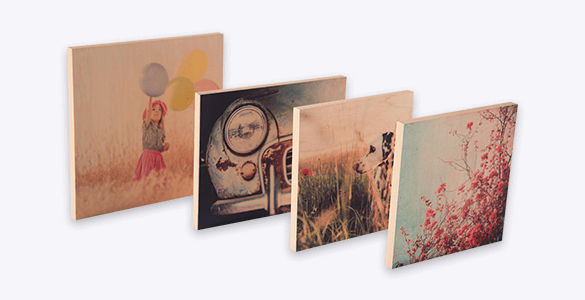 Define the thickness
To ensure that your wood print looks perfect and remains lightweight, our experts recommend using 12MM as idol thickness. The width is also considered for its durability.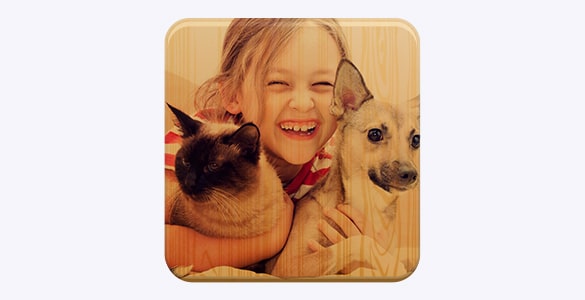 The special touch
To ensure that your wood prints deliver maximum visibility by keeping off the glare, we have two matte finishes; white and natural and we know how to use them wisely.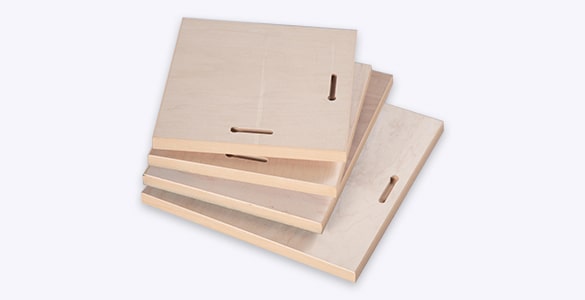 Hanging options
All our wood prints are equipped with standard hooks, which means that you can hang the picture without any hassle. In addition, the image will not lie flat against the wall; instead, it will be mounted almost half an inch away from the wall, depending on how your nails are in the wall that will give it a floating effect.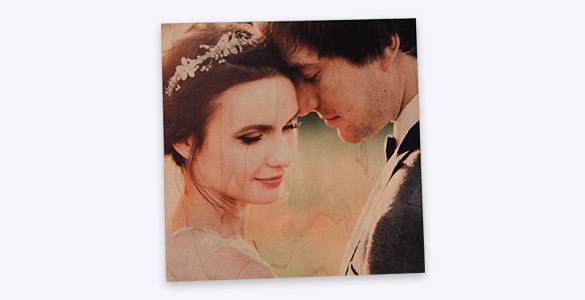 The quality of wood
After thorough analysis, our experts rely on Chromaluxe Wooden Panels to build best quality wood prints for you.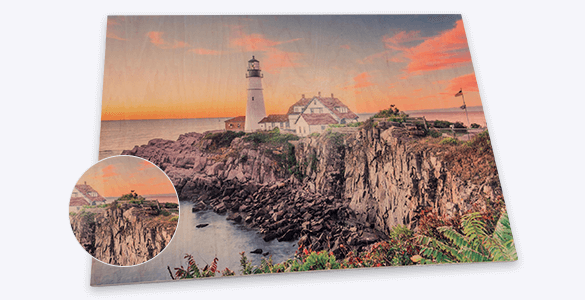 Image resolution and DPI printing
It isn't just the panels that make quality wood prints, we consider 1040 as the best Digital Photography Imaging (DPI) for printing.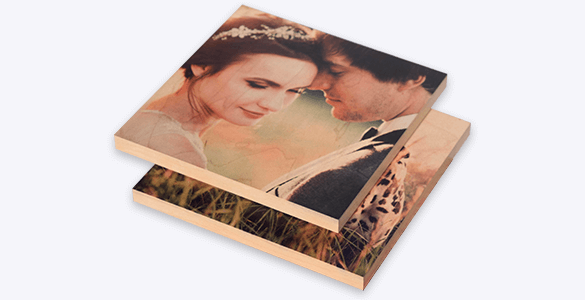 The material we use
While every wood print gets directly printed on wood. We use permanent UV which not only reflects unique natural patterns of the wood but also ensures that it stay with you forever.
We are known to deliver quality-satisfaction
Our customers don't just love us for our wood prints, but they also love us for our services
With passion comes excellence

Our passion for wood prints and the expertise in same makes us take a more personalised approach towards building quality wood prints for you.

Proven standards

Wood Panels, printing ink, technology, expertise and yes the hanging equipment. We ensure everything used delivers perfection

Nourish forever

Each of our wood print is prepared with utmost care, this is why they stay with you forever.

Prioritizing delivery

We believe in long-lasting relations. This is why the securely why the securely packed wood prints reach your doorstep within 5-10 business days.
Take a step to preserve nature

Know what is wood printing?

Your reliable alternative to canvas prints
Print your pictures on wood and preserve the memories for years
Let our wood prints add life to your splendid memories
Some memories have special place in our heart
The reason we take pictures of some special moments and keep them secure is that they have a special place in our heart. However, if you really want to keep these special moments forever, we believe a digital copy isn't enough. Print them on wood, and let your home speak the language of love.
Well, if you are still wondering about the occasions that you can choose. Here are some of the most used occasions;

Want to place an order? Here's how
To add ease to your buying experience we have ensured making it possible in four simple steps
Upload the picture

You have the option to upload pictures from your social networking account or desktop/laptop.

Choose size and layout

Once you upload, it's time to choose the size of wood print and layout of the picture.

Personalise it

Do you want to add special effects to it? Take your time and personalise it to the fullest.

Place the order

Now that you are done with your part, chuck it to us to give it final shape.
×
Make wood your canvas
We sincerely mean printing your photos directly on wood rather than sticking the paper prints through glue or heat transfer. With the help of innovative technology, our experts can ensure maintaining the same cinch of perfection while making the end-print leave a creative impression.