About Hexagon Canvas
Hexagon Shaped Canvases Bring All Your Memories Together.
Hexagon-shaped canvas prints are a lovely and innovative way to display your precious memories. Connect up to ten of our honeycomb photo canvases using collage clips to create a design that is uniquely yours. Combine hexagon canvas prints in any shape or hang them alone for a distinct design touch.
Beautiful Hexagon Photo Canvas Prints from CanvasChamp
Our hexagon prints are displayed on high-quality canvas using the latest printing technology. Your personalised hexagon shaped pre-stretched canvas will have the same bright colors and durable fabric you've come to expect from CanvasChamp. You can also choose from two different wraps and three different borders. Your friends and neighbors will be impressed with your new honeycomb-shaped canvas prints!
The Perfect Size Honeycomb Photo Canvas - For Anywhere!
Honeycomb canvas prints measure 10" from corner to corner or 8 3/4" from side to side, so you can hang one hexagon shaped canvas in a small area or combine several for a personalised hexagon photo canvas display for larger areas. Honeycomb canvas prints are as versatile as they are beautiful!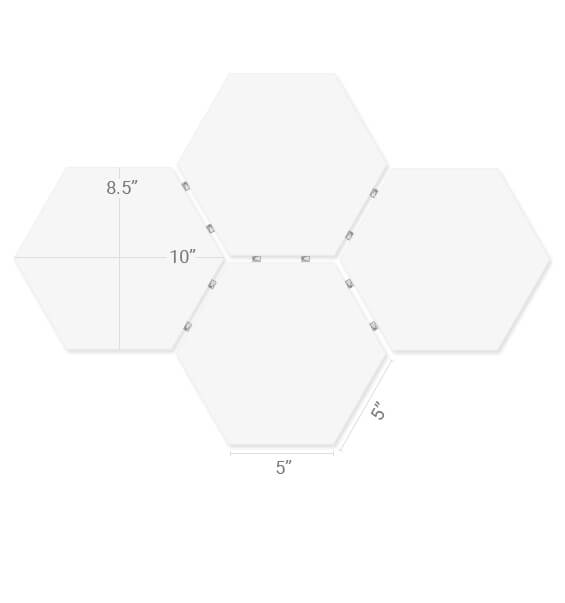 Hexagon Canvas Prints
Connect Them, Arrange Them or Hang Them On Their Own!
Ordering Hexagon Photo Canvas is Easy
1

Upload images from your computer or device, or from FaceBook or Instagram.

2

Crop and Move your picture to get the perfect hexagon photo canvas.

3

Choose your wrap and border.

4

Choose any additional options such as color finishing or retouching

5

Print several at a time for a honeycomb display or add to your hexagon canvas art slowly.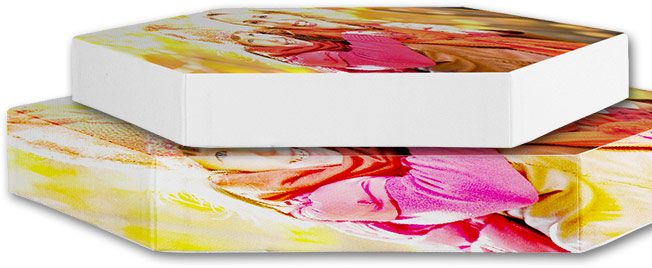 Lovely Hexagon Wraps and Borders
Your hexagon shaped canvas prints look even better with wraps and borders that reflect your personal style!
Choose a .075" thin gallery hexagon wrap for real "art gallery" feel.
With a variety of combinations, wraps, and borders, your honeycomb canvas print wall display will be truly unique!
Additional Hexagon Shaped Canvas Options
We have even more choices to make your hexagon canvas prints the perfect addition to your home.
Color finishing allows you to choose the original color, sepia for that "old-fashioned" feel, or grayscale for a more "artsy" look
Original Effect

Gray Scale

Sepia
You can also request retouching to remove any imperfections in your original photo such as redeye, scratches, exposure problems, or faded color.
At CanvasChamp, we want your honeycomb canvas print display to be a beautiful and distinctive addition to your home. Let us help you create the
perfect look just as you imagine it!.